Recently we faced this issue. We have MediBuddy as our medical insurance portal. We submitted a claim via the website https://portal.medibuddy.in/Home.aspx. MediBuddy team got back to us via email & asked for few more documents. There was a link in the email https://me.mediassist.in/ to submit documents online for that claim. But we couldn't find any steps or didn't see any option in the portal UI where we can upload additional documents for an already registered claim.
Thankfully we got a reminder email from MediBuddy. And there was a link to Android app there. So I tried to find out if there was way to upload missing documents via Android or iOS app. I found a document online named IBM Smartbox tutorial. It helped me to identify the correct steps. The sample screenshots below may be a bit outdated. But you can easily follow them & upload any additional documents or bills for an existing insurance claim.
Here are the steps:
Download MediBuddy mobile app in Android or iPhone.
Go to Insurance section.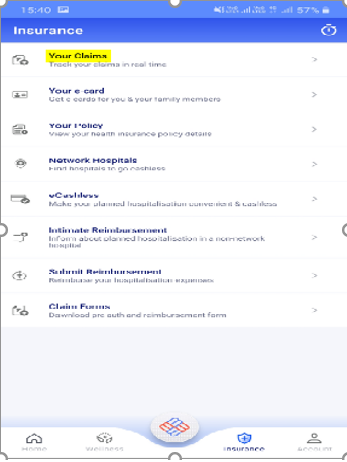 Select Your Claims to view existing claims list.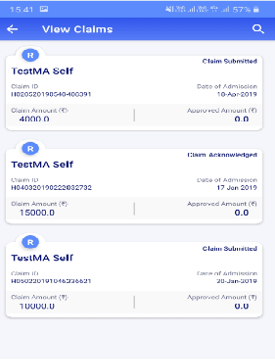 Select the particular claim for which you have been asked to submit additional documents. The claim in the screenshot doesn't need additional documents. But in your case, you will find upload option in the same screen as a separate step.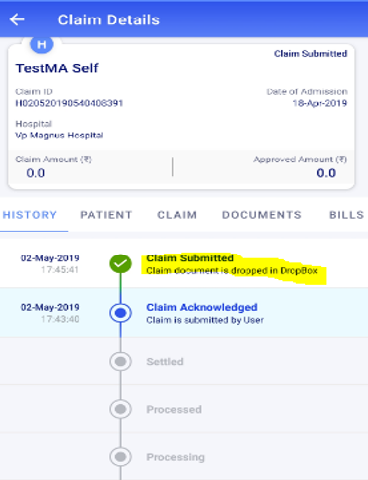 MediBuddy website has quite a few issues. I tried the iOS app. It works better. So I think it would be better to download the mobile app instead of wasting time in website portal.